Visit Tuscany trought the Reinassances and Medici gardens
Gardens in Tuscany, discover all the nature around the Tuscany historical palace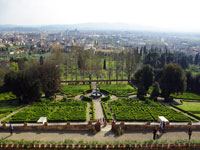 Travelling all over the world to find beautiful places and rediscover contact with nature, being wondered by the smells and the colors of flowers and plants, admiring the architecture and the geometry of the gardens: garden tourism is a kind of tourism based on travels and trips to locations with the possibility of visiting gardens which are considered important in the history of gardening.

This type of tourism is very requested from British travellers but it's developing all over the world: "garden tourists" like travelling to locations with significant gardens and they often decide to join organized garden travels and tours.

Tuscany is a land rich of gardens and parks that tourists can visit every time of the year: there are about 150 venues people can visit, having a "time travel" starting from Renaissance to the present, passing through Romanticism medici villa garden In Florence, there are lots of site to visit, like Boboli Garden, Bardini Garden, Iris Garden (this flower is the icon of Florence – this visit is feasible in May, during the Iris flowering period), the Garden of Orti Oricellari, Torrigiani's Garden, Giardino dei Semplici and many more.


A walk of an hour between giants, mermaids and dragons attacked by dogs that will entertain adults and children that, between laughter, will be in the crooked little house.

The park, born as a celebration and a return to nature, takes an initiatory value, and as said Orsini Family, to achieve a purity, a traveler must overcome hard and strong evidences that they raise him at the highest point, symbolically and literally of the Park.

We absolutely recommend this as a must-visit for those who are just passing between Rome and Florence, because it's a wonderfully unique place and it's close to the highway.