An absolute fun for childreen and bigger people
Built by the man who completed San Pietro and Villa D' Este in Tivoli, this park is one of our favorite places to stop.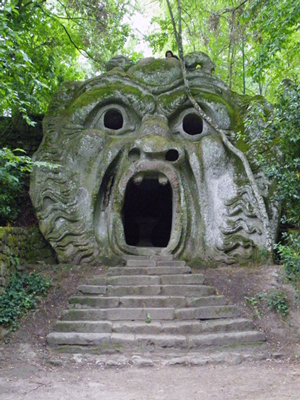 The sculptor and architect Pirro Ligorio, commissioned by Pier Francesco Orsini, built this unique work in 1552, probably without understanding the magnitude and resonance that this work would have been later.Bomarzo park.

It is one of the most complex examples of Italian Mannerism and the search for details and the particularity of the works scattered throughout the park with esoteric and classic themes that never fail to amaze and, sometimes, frighten the visitor.

Called "Monsters Park" of Bomarzo by local residents, this park will amaze you, from the beginning, for the engravings and the spectacular that expresses.


A walk of an hour between giants, mermaids and dragons attacked by dogs that will entertain adults and children that, between laughter, will be in the crooked little house.

The park, born as a celebration and a return to nature, takes an initiatory value, and as said Orsini Family, to achieve a purity, a traveler must overcome hard and strong evidences that they raise him at the highest point, symbolically and literally of the Park.

We absolutely recommend this as a must-visit for those who are just passing between Rome and Florence, because it's a wonderfully unique place and it's close to the highway.