The Florence Dome took more than six centuries to become what is today: the Florentine people began the jobs of construction to the end of the Twelth Century for a work of Arnolfo di Cambio that planned the architecture design, while the famous Brunelleschi's cupola was completed in 1428, followed then by the last apse and the facade that completed it.
The Dome, or Cathedral of Saint Maria of the Flower, to whom it was entitled in 1942, was born over the ruins of the ancient church of Saint Reparata, and during centuries it has been enriched by sculptures and paintings of several historical periods and important artists such as Donatello, Tino of Camaiano or Michelangelo, and many masterpieces then transferred in the annexed museum of the Work of the Dome.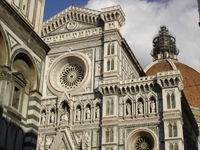 The facade was completed in 1886 from the architect Emilio de Fabris, after having partially used the previous and incomplete one made by Arnolfo di Cambio in order to make the dome pavements in 1587. In front of this facade, it can be admired the Baptistery that takes back to an ancient roman structure. Its foundation belong to the ancient Christian age, and possibly of the structural modifications made by the Longobardi in the 600 A.D.
In the 509 A.D. it became the Episcopal centre and the octagonal cupola was completed, later on receiving the funeral coffin of Ranieri bishop, while in 1128 the rank of Cathedral was removed and becomed Baptistery. Since then it has been recognized its elegance of Romanesque style, its precious mosaics and pavements so that in the 1300 the Florentines were induced to donate the actual doors, for work of Andrea Pisano and Lorenzo Ghiberti, proposing the wonderful Paradise Door, decorated in gold and representing famous Biblical ambientation and completed in 1452.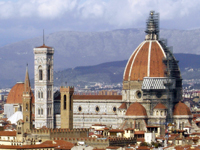 In the same public square, next to the Catedral of Saint Maria of the Flower there is the bell tower. Planned and begun by Giotto in 1334, it was continued in 1338 after his death by Andrea Pisano who in turn will be replaced in 1348 by Francesco Talenti who ended the work, bringing some modifications to the its original design, among them the terrace that ornamented its top in 1356.
Opening time: 9 a.m - 7:30 p.m
Sunday : 9 a.m - 1:45 p.m