Wine tasting in a wonderful castle more visits to Outlet in Florence.

A memorable Wine - tasting half day, situated in the zone of production of the Chianti wine where you can try the limited production of the Colli fiorentini and Chianti Rufina wines.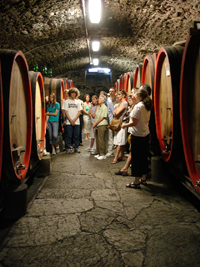 his ancient castle and the introduction of Alberto secrets of the wine cellars will conquer you. A perfect head of household that will accompany you during the visit and will reveal the anecdotes and the secrets of the family owner beyond the historical important diatribe, without forgetting the main argument: the wine or the extra virgin olive oil.
The family that you will go to visit has dedicated years and generations to the production of the wine and of the extra virgin olive oil.
The company's concept and the ability to produce niche wine, will not be the arguments dealt with in one pleasant visit of yours of 40-60 minute. You will be able to explore the wine cellars and the amazing courtyard of the castle.
After the the visit to the wine cellar there will be spuntini and crostini to consume during the tasting, during which you will learn to appreciate and taste the wine. Alberto will attend the tasting and will slowly explain you the differences between the used wines, agings and materials. winetasting in castle in chianti rufina The visit is concluded with a visit to the "shop" of Trebbio Castle where you will get to taste the wine or the oil, if you wish. We advise this wine tasting for the last half of the day (9:30am-13:00pm).
I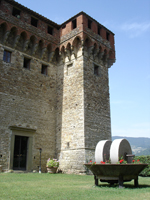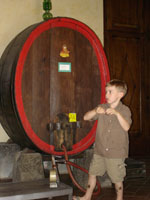 t will be an amazing experience for those who wish a pleasant and professional visit to a fairytale castle and the wine cellars.
The cosiness and the atmosphere created by Alberto during the wine tasting and the visit are great and never underrated. We can moreover propose the visit to the Trebbio castle following the visit to the mall outlet - one optimal opportunity to experience the classic Tuscany where you will have a chance to see and try the wine and the oil and buy the best production of the Italian fashion.