Castle in Chianti winetasting, immersion in Tuscany wine culture
Wine tasting, cellar tour and visit of the castle garden with or without lunch, a full day in Chianti castle you will never forget.
Castle in Greve in Chianti can be reached after a delightful one-hour journey travelling along the picturesque wine road, and on arrival.

The silhouette can be seen in all its ancient grandeur on the horizon, lined at regular intervals by the characteristic cypresses that create the road that leads you into one of the most famous and typical wineries in the whole of Tuscany.
On your arrival you will be welcomed with the kindness and genuineness that characterise those who have always been used to receiving and giving refreshment to wayfarers and pilgrims, and with the same kindness you will be accompanied into what might almost religiously be defined as a temple of the cult of wine in all its forms.

You will start your trip by entering the castle courtyard and admiring the magnificent garden and the reserve of "verri", the wild boars from which the place took its name in ancient times.
You will then continue to the marvellous terrace overlooking the castle's vineyards and estate, and a talk will begin about the lands that surround it and the origins of the grapes that grow on this farm.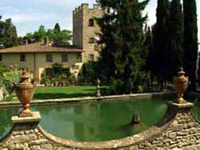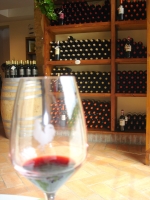 The visit will continue in the heart of the castle, where you will see the ancient walls that have formed the cellars since 1100 and be amazed by the enormous barrels and by the vivid aromas of grapes and wood with which these particular wines have impregnated the atmosphere over the years.

You will have a chance to admire the personal cellars of the owner of the castle with vintages going back to 1930 and the cured meats, which, as taught by the makers, have always been the ideal accompaniment to a good wine and help to create the atmospheric flavours that can be breathed in this castle.

Finally, having become acquainted with the whole range of genuine products of superlative quality, all produced by the Verrazzano farm, you will move on to the large hall where, gathered around the fireplace in the company of your guide, you will sample the best wines and oils produced on this estate, where good wine and good food are created and appreciated as a natural consequence of being in the company of other people, long before all this took the name of eno-tourism and became valued throughout the world.



Will you can reserve Guided tour of the garden of Castello and its historical cellars and sampling of four wines: Rosso IGT - Chianti Classico DOCG - Chianti Classico DOCG reserve - Supertuscan: special bottle, and tastings of oil and balsamic vinegar of their own production.

You can reserve also the dinner and taste all product of the castle in Chianti more the day dish and a typical sweet Tuscan biscuits with wine: Cantuccini e Vin Santo.